YAY! I HAVE FOUND ENGRISH! VAST QUANTITIES OF ENGRISH!
For those who (sensibly) do not follow my fandom babblings, I have something fun.
I believe there's a Japanese movie DVD edition of FFX available with the original voices (yay!) plus English subtitles. It's a playthrough of the game, minus the combat.
I suspect that the copy I picked up on eBay is NOT the version released by Square-Enix, but a bootleg fansub. I hope. Because the translation is just awful. Horrible. Incomprehensible.
And FUNNY.
I give you: Final Fantasy X, the Engrish Language Version
featuring the star player of the one and only...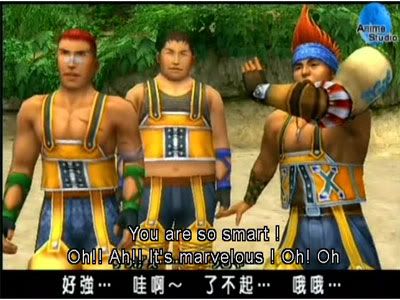 For the rest of the insanity, please go to my
Final Fantasy X Bad Fansub
gallery!